Face recognition is one of the most popular technologies in recent years. We use it for unlocking smartphones, we are constantly seeing the news that thanks to such systems offenders are found, and in recent months also those who do not observe the self-isolation mode.
Identification by face, photo or city camera image is our new reality. So it is important to know how this technology works.
How do the facial recognition systems that we hear about all the time
Recognition of a person can be divided into two main stages:
identification and verification.
Most of the work is identification.
The system tries to recognize a person based on his or her image.
Verification is the last stage, at which the received data are compared to the information saved earlier (for example, a photo in a database).
Below is a very general description of the recognition algorithm operation.
The person is extracted from the image transmitted by the camera.
The system finds the reference points by which the individual characteristics of a person are determined.
The obtained data are corrected to obtain a clear frontal image.
It calculates a set of characteristics that describe a person regardless of external factors: makeup, glasses, mustache, hairstyle, headgear and so on.
The obtained vector is compared with the information available in the database. The face image itself is not saved anywhere – the system works only with digital data. At comparison it is considered, how close the received image is to the saved sample. The closer the value, the higher the probability that it is the same person.
The recognition system consists of cameras and software that analyses the image. Its implementation does not require large investments in infrastructure. As a rule, city cameras installed earlier are connected to the system. The only thing that may be required is to gradually upgrade the equipment to obtain a higher quality image.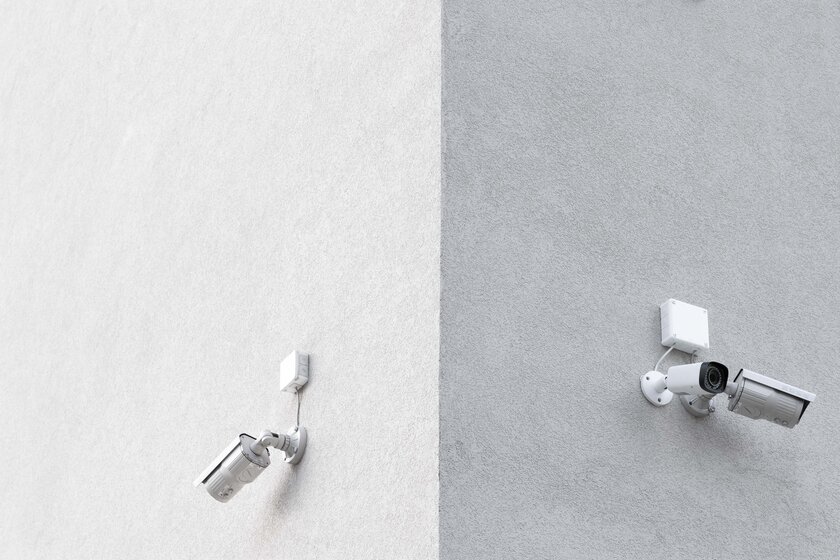 City cameras have no problem identifying your identity. It is very difficult to fool the system.
The security camera's getting bigger. Soon they will be on every corner / Photo: unsplash.com
All face recognition systems use neural networks for data processing. They are trained to "feed" hundreds of thousands of photos. The avatar database from social networks is particularly popular with developers – in fact, we provide the material ourselves so that we can be easily identified in the future.
Recognition technologies: from simple photo processing to facial thermograms and skin analysis.
The most common technologies now are 2D and 3D recognition.
For 2D recognition flat 2D images are used. As it is easy to guess, this is one of the most popular technologies simply because there is a huge number of photos for identification of an individual in the world. For recognition, anthropometric parameters of the face, elastic models, sets of physical and mathematical features are used.
Dignitudes:
a large database for identity identification and verification;
ready-made infrastructure for implementation – conventional city cameras can be used.
Drawbacks:
higher false pass and false fail rates compared to 3D recognition.
3D recognition is performed using reconstructed 3D images. Several technologies are used for this purpose. For example, Apple's Face ID uses vertically emitting lasers.
Advantages:
Face detection is more accurate than 2D recognition.
Drawbacks:
The system requires special cameras to operate, so the existing urban infrastructure cannot be used;
The number of 3D images is noticeably smaller than 2D images when mass use in public spaces is involved.
There are suggestions on how to combine 2D and 3D recognition. For example, researchers at the Universities of Nottingham and Kingston presented a neural network that, based on a single photo, recreates a 3D projection of the face. Here's an online demo of this system. You can look at examples of other photos or upload your own photo.
Right .
City cameras have no problem identifying you. Fooling the system is very difficult. City cameras have no problem identifying you. It is very difficult to trick the system. City cameras have no problem identifying you. Tricking the system is very difficult City cameras have no problem identifying you. It is very difficult to trick the system.
Processing a 2D image takes less than a minute
The researchers are also testing other technologies that can increase the efficiency of recognition – including finally solving the problem with the identification of twins and camera operation in low light conditions.
For example, much attention is now paid to facial skin analysis. Certain areas are captured as images and broken down into small blocks, which are converted into measurable spaces.
They record lines, pores and the actual texture of the skin, thus increasing the accuracy of personal identification.
Another promising trend is the use of thermal imaging cameras for face recognition. The development is being carried out in two directions: identification by pre-created facial thermograms or processing 2D images using neural networks.
Recognition by skin texture and thermal imaging is still only possible in the laboratory. No ready-made commercial solutions.
Applications: from smartphone unlocking to perpetrator capture.
Unlocking your smartphone through face recognition is a familiar action. But this is by no means the only area of technology.
Facial recognition systems are very helpful for law enforcement. Football fans are particularly aware of the power of the technology. Such systems are placed in at least 10 Russian stadiums. Thanks to them, fans from the blacklist are not allowed to attend matches, who are prohibited to attend sporting events by court order.
The most vivid illustration of the technology's work is the detention of almost 200 people in cities hosting matches of the 2018 FIFA World Cup. More than 500 city cameras were connected to the FindFace Security system developed by Rostec. According to the head of the corporation Sergei Chemezov, an identity is identified even if a person wears glasses, hood or cap.
In China, recognition systems are used to detect criminals and search for missing people. These are difficult tasks, but every year there are more and more successful cases.
The last powerful case that brought back to mind the anti-utopias of the citizen tracking "Big Brother" – in March 2020, news began to appear about how many violators of the regime of self-isolation detected in Moscow with the help of cameras system "Safe City". A total of 178 thousand cameras were installed in the city, in 2020 there will be 9000 more.
One of the most promising areas of recognition technology application is access control. Airports, stations, closed enterprises – everywhere it is possible to reduce the probability of error due to the human factor through automatic identification.
In medicine, too, the data collected during the study and analysis of faces are used. Modern technologies make it possible to track whether the patient is taking medication and also to monitor the effectiveness of pain relief during medical intervention. In addition, recognition helps to detect certain genetic diseases – for example, Di Georg syndrome is diagnosed with a 96.6% probability.
The banks are actively investing in facial recognition systems. Financial institutions use recognition when considering loan applications, as well as to prevent fraudulent transactions on lost or stolen passports.
Retailers are also thinking about how to apply face recognition technologies. For example, back in 2017, the Walmart network introduced its own development, which allows you to determine the mood of a customer while shopping, as well as the level of satisfaction at the exit from the store. Amazon uses its own facial recognition technology. According to rumors, the identification system is connected to cameras in self-service stores Amazon Go.
City cameras can easily identify your identity. It's very difficult to fool the system.
Cameras in self-service stores are a necessity. The question is what information about customers they collect / Photo: wikimedia.org
Marketers of large companies have high hopes for recognition systems. For example, they can be used to collect data on the age and gender composition of visitors. In cinemas from chains "Cinema Park" and "Cinema Formula" in 2018 began to install cameras that count the number of viewers and analyze their gender and age characteristics. However, identification is not carried out – all data is depersonalized. The information collected is used for more accurate repertoire planning and tuning of targeted advertising.
There are cases for implementing payment systems to verify payments. For example, in 2018, a payment system that recognizes the faces of customers began to test in restaurants network Papa John's and in coffee shops Cofix. However, to use this service, you need to download an application, tie a card and upload a photo. Only after that the terminal can identify itself and withdraw money from the account. Other restaurateurs were skeptical about this system, and the experiment has not found application in practice – so far everyone is satisfied with the way the usual methods of payment with a card or smartphone.
Arms race: deceiving recognition systems is becoming more and more difficult.
Bad news: because of the coronavirus pandemic, developers have paid a lot of attention to modernizing recognition technology. Now algorithms can easily identify a person, even if he wears a mask, covered his face with a scarf or pulled a baseball cap.
Half of the face or eye area is enough for recognition with 90% probability. If the camera picks up 3/4 of the face, the result is 100% identification. This is the data for 2019. The algorithms are now even smarter.
The good news is, there are still ways to fool the recognition system. However, to do this, you need special devices, most of which look at least extravagant.
For example, here are Japanese glasses with LED lights that illuminate the face, not letting cameras determine the reference points.
City cameras have no problem identifying your personality. It's very difficult to fool the system.
You may fool the camera, but you will definitely draw attention to yourself / Photo: engadget.com
Several technologies related to glasses were suggested by American glasses designer Scott Urban. For example, you can order glasses from him, which absorb infrared waves and block the recognition system. They are expected to be on sale in August 2020.
Right .
City cameras have no problem identifying you. Fooling the system is very difficult. City cameras have no problem identifying you. It is very difficult to trick the system. City cameras have no problem identifying you. Tricking the system is very difficult City cameras have no problem identifying you. It is very difficult to trick the system.
Stylish glasses for those who appreciate anonymity / Photo: reflectacles.com
Chinese engineer Jing-cai Liu in 2017 showed a device that attaches to her forehead and transmits the face of another person. It looks frightening.
Another old version is a silicone mask. You can even make a fake face to order.
Instead of masks a few years ago, you could use drawings and strands of hair covering the reference points of recognition. But now it is no longer relevant – modern systems have learned to ignore such barriers.
Another project is HyperFace. These are patterns that redirect attention from the face to surrounding objects. The problem is that such camouflage is not universal – it is tuned to a specific recognition algorithm. In addition, the developers have not advanced further than the prototype.
City cameras without problems identify your identity. It's very difficult to fool the system.
Another development whose value was not high / Photo: ahprojects.com
There are a lot of device modifications that can interfere with identification. The problem is that they are either too expensive or look as visible as possible. If the goal is to trick only the camera, then this approach works. But walking around in the streets with another person's face projected will surely attract attention.
Another problem is that there are too many cameras connected to recognition systems. This means that if you want to hide yourself, you'll have to be on the lookout all the time. The developers of recognition systems also do not sit idly by and invent new technologies – for example, the same use of thermal imaging cameras. No silicone masks or reflectors can help against them.
The conclusion is simple: there's no point in fighting identity systems. Therefore the main thing now is to formulate transparent rules of their use and to develop reliable methods of data protection against unauthorized access.