Why you may need to turn off the computer timeru? Isn't it easier to do this when you stand it? The reasons can be many:
You leave for the night a big fix and roughly calculated how long she can last
You go to bed to, for example, to watch a movie, and set timer at the time almost immediately after its completion
You leave the house, but the computer needs to be some time open to remote access
You regularly go away in a hurry and just forget to turn off the computer, especially if the monitor after inactivity extinguished
Even one of these reasons is enough to use a delayed shutdown. Moreover (as we will see below) to dig deep, how to put on timer the computer is not necessary.
Built-in timer Windows
Very often we use Windows, not noticing the full power of the operating system. But among its functions there are so many non-obvious, such as to put the computer on timer off. Assume that you have Windows latest version — from 7 to 10.
I hope you are not afraid of the concept of "command line"? If you grew up in the era of MS-DOS or interested in administration, it should not. But even if you are far from it, nothing wrong with using the command line there. It is a powerful management tool Windows, and extensive help commands will allow you to achieve goals literally one press Enter.
To invoke a command line, you can simultaneously press the keyboard keys R and Win (the Windows logo). The other way is to enter the start menu, and there in the "All programs/accessories" find string "Run". The result is the same: you'll get a window with the input field, the miserly and do not contain anything more.
For example, you need to turn off the computer after 5 minutes. Now you need to enter a command having the formula:
shutdown-s-t 300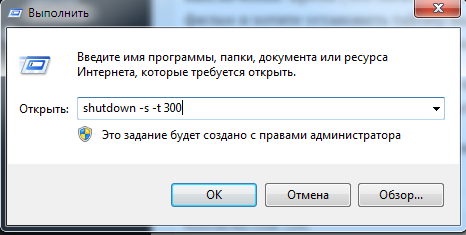 As you know from the English, shutdown means shutdown. Option -s (suspend) is needed for a pending command, and requires that we specify the time before shutdown. Time (which is logical) is designated by the letter t (from time) and is specified in seconds. In our case correspond to 300 seconds 5 minutes. If you watch a two hour movie and want to set a timer turn off the computer with a five-minute margin, you need to multiply 2 hours and 5 minutes (or 125 minutes) for 60 seconds. It turns out 7500 – this number will need to substitute in a simple expression.
If the computer you are working some programs that prevent the closure, it is necessary to add to the command the-f option (forced). In its application all running programs will be closed forcibly.
What if you for some reason decided to turn off my computer? No, you don't have to think, red or blue wire cutting. Just start a command prompt again and type the command
shutdown-a
"a" means abort interrupt. Waiting in the wings the team to shut down the computer thus canceled.